Sell only with stator coil and rotor.
We also accept stator outer diameter finishing and rotor inner diameter finishing.
Our company supports each dedicated model with a coil winding manual work line by one of the few craftsmen in the world, so we can manufacture your desirable specifications (output/rotation speed) with a standard stator outer diameter of φ60 to φ225.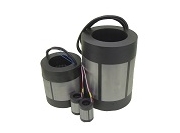 Product example:Resin mold type
By applying resin molding to the conventional built-in, the heat dissipation effect of the coil end part is enhanced, and the motor temperature can be reduced.
By switching the connection, it can obtain high torque from low speed reduction.
Recommended for spindles of various machine tools (machining centers, lathes, etc.).